Step 1 - Immediate Emergency Response
When you call 1-888-PoBoy911, you can expect one of our very own professional water damage technicians to arrive on-site within 60 minutes to assist you throughout your entire water damage claim process. PoBoy911 will work with you from beginning to end, billing the insurance company directly, taking the stressful claim process off your hands!
Expectation-
When calling our 24/7 emergency response water damage restoration hotline (888-PoBoy911), you will be asked a few questions regarding your water damage loss. Once we have all the information needed to begin the water damage repair process to your home, we will set up a time that is convenient for you to inspect the damages to your home.
Our PoBoy911 Water Damage Technician will ask you the following:
Name, best contact phone number, and email
Street Address, City and Zip
Insurance information (if appropriate)
Source of your water damage
Date in which your water damage occurred
Availability of power at the residence premises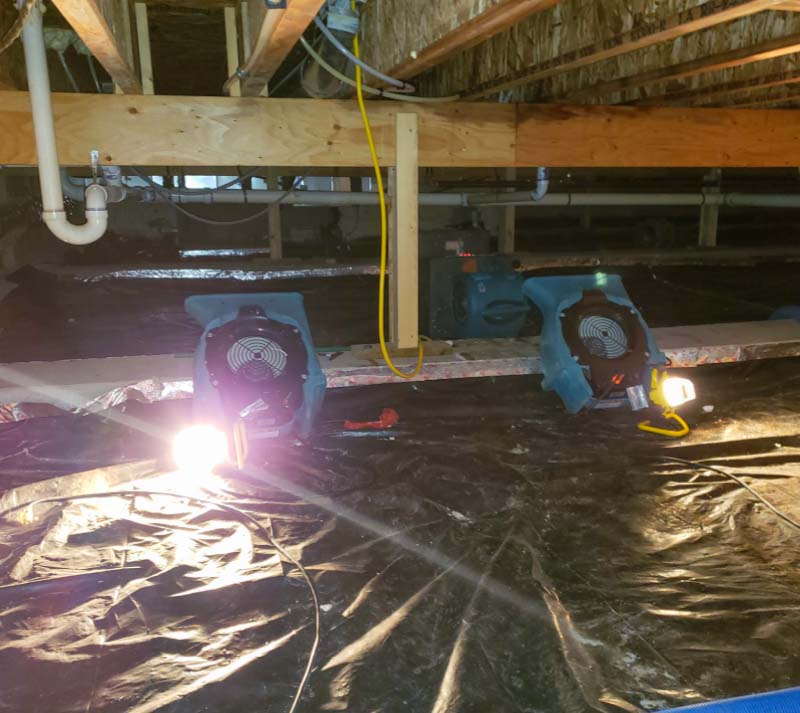 Once all the appropriate information has been received, you will be well on your way to receiving the best customer service you could ever imagine. We know that experiencing a water loss to your home or business is tragic and the water damage repair process is even more frustrating. Please leave your worries to PoBoy911 and rest assured, you will be treated like family and we will keep your emergency from becoming a disaster.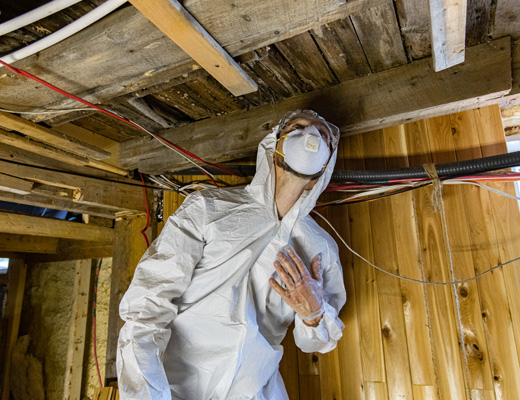 Step 2 – Visual Inspection of Water Damage and Moisture Mapping
The first step to determining the amount of water damage to your home, place, or business is doing a walkthrough with our professional water damage technician. Our water damage technician will be equipped with state-of-the-art tools to make an accurate assessment so he or she can implement the highest standards of water restoration according to the IICRC, fitting to your specific needs.
Finding the Source of Water Damage
The most important step in assessing water damage is determining the source of the water. Before drying of the structure can begin, we must determine where the water is coming from. To educate you a little more, we have included each "Category" of water, per the IICRC Standards.
Category 1 Water – (Ex. Clean water such as leaky hot water heater, broken dishwasher hose, water supply line, tub or sink overflow with no contaminants, and appliance malfunctions involving the water supply line)
Category 2 Water – (Ex. Dirty Water such as Water bed leaks, aquarium leaks, toilet overflow (that doesn't contain urine), dishwasher or clothes washer discharges, and water that enters the structure from hydrostatic pressure)
Category 3 Water – (Ex. Grossly Unsanitary such as discharge from toilets that originate from beyond the toilet trap (from sewer or septic system), and intrusions from the surface of floodwaters into the structure)
Most Common Causes of Water Damages are:
Leaky Hot Water Heater
Toilet Overflow
Water Supply Line
Sewer Back-Up
Flash Flooding
HVAC Leak
Roof Leak
Moisture Mapping of Water Damage
PoBoy911's certified water damage technicians write a plan specific to your water damage needs. The plan for moisture mapping starts with a thorough inspection of your home, place, or business and taking moisture readings of the following: Damaged Drywall, Base Plates, and Saturated Cabinets to name a few. We draw a sketch of your home and map all the areas of your home that have been affected by water damage.
Once a moisture map of the affected areas has been created, then we can proceed with giving you a complete run-down of what needs to be completed and provide you with an approximate time frame required to dry your structure.
Step 3 - Emergency Water Removal / Water Extraction
The most important aspect of removing excess water is preventing secondary damages to other structural materials and/or personal belongings. Salvageable material is dependent upon the following:
Type of Water Damage to Affected Materials
Category 1 or 2 water that has affected structural materials such as drywall can usually be saved with the proper drying techniques. If Category 1 or 2 water has contaminated personal belongings, a detailed inspection of the item will be needed to determine if the item or material can be salvaged.
Category 3 water that has affected drywall or sheetrock must be torn out and can not be salvaged. There can be serious consequences if Category 3 water is not handled properly, as per the IICRC Standards. The handling is the same for carpet that has been affected by Category 3 Water; removal is required.
Secondary Damages can occur to the following structural materials:
Category of Water that has affected the material;
Water Damage that is not found and mitigated within 48-72 hours can result in mold growth.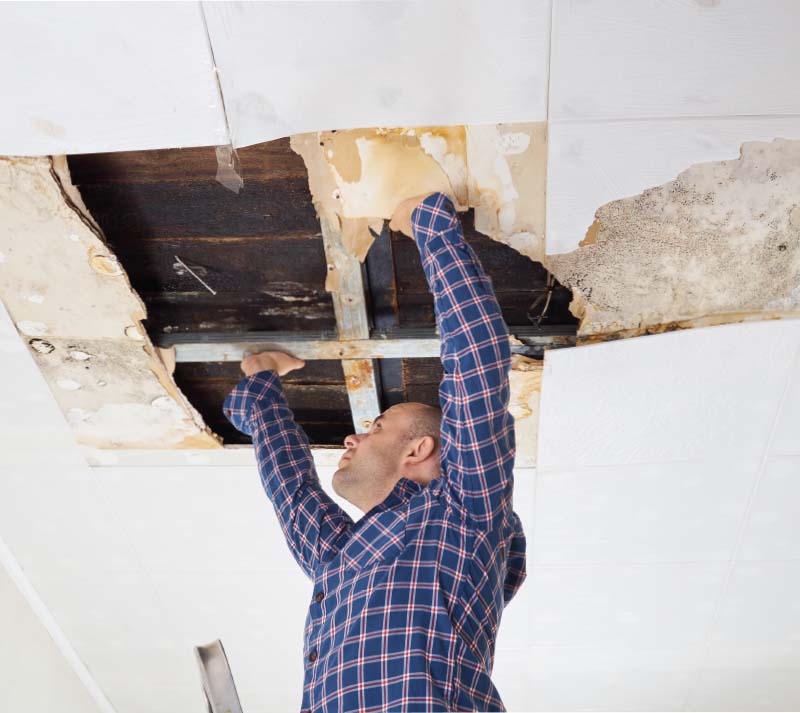 We use several types of equipment that can remove excess water such as:
Portable flood machines
Truck mount machines
Trash pump outs
Vacuum Flood Trucks
Our state-of-the-art drying equipment will help detect and dry the water that you are unable to see! The water damage that you cannot see with the naked eye can be costly!
Moving Furniture and Content Items
We will request to move all furniture in the affected areas when needed to prevent secondary damages such as furniture stains and water stains to the furniture. We have the capability of moving all of your belongings into our warehouse for storage until the work has been completed in your home. Once all the water damage repairs have been completed we can proceed to move your personal items back in your home.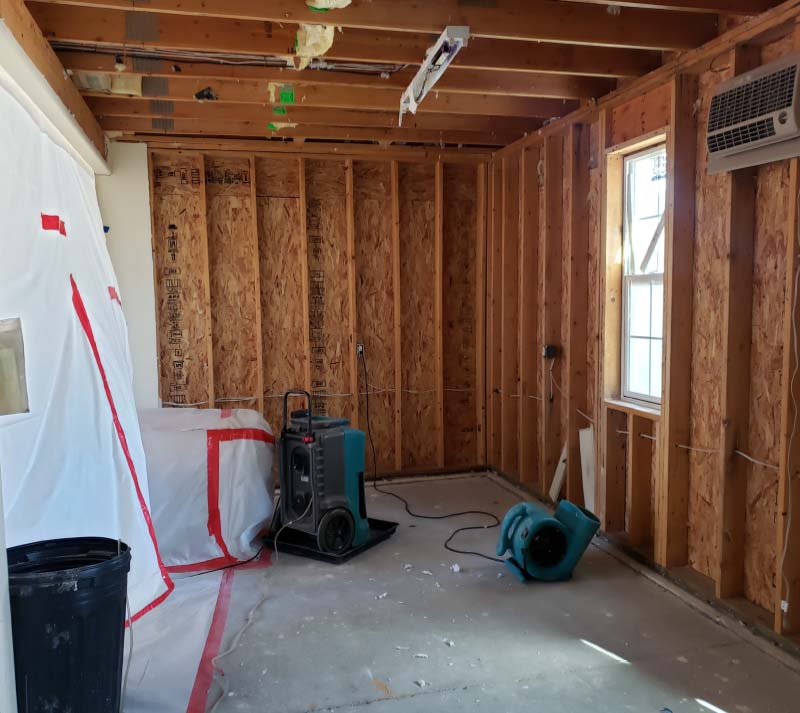 Step 4- Drying your Home, Place or Business
Once all excess water has been extracted, the flooring and structural materials may seem dry with a visual overlook, but the moisture left behind is lurking where you are unable to see. This is why we use a moisture map; so we can know exactly where the wet materials are located and in return, will help us determine where to place the drying equipment or if we need to add additional drying equipment.
Optimal Drying Conditions
There are several factors involved when drying a structure. Temperature, Humidity, and Air Movement all play an important within each other to make the best drying environment. Materials that have a lower permeance rating will need special attention. (Permeance is the ability for water vapor to move through a material) Plywood's permeance rating is 1.9 whereas drywall is about 50.00. As you can see, plywood or other wood materials will need a different approach when properly drying the structure.
We are the water mitigation professionals you can rely on; 24 hours a day, 7 days a week, 365 days a year. We will be there for you when you need us the most.
Cleaning of Fabrics, Fibers, and Structural Materials
During a Category 1 or Category 2 water loss, it is possible to clean different types of fibers, both synthetic and natural, as well as, structural materials. After the structure is completely dry, PoBoy911 water damage technicians will determine which materials are able to be cleaned and deodorized. We understand that restoring the water-damaged materials back to pre-loss conditions is very important to you and your family. Proper handling of delicate fibers and structural materials can be crucial to restoring the items to pre-water loss condition. With our certified trained staff, you can sit back, relax, and know that we will treat your home and personal belongings as if they were our own. We will do everything we can to save all water-damaged items. We will not throw anything out unless you request it.
Step 5- Water Damage No-More!
After your home, place or business has been completely dried out by your, NUMBER 1 Choice, emergency response team, one of our water damage experts will do a final walk-through of your home, place, or business and answer any questions that you have regarding the work performed. Our expert water damage technicians will go over the estimate with you so you understand there are no hidden fees. If you disagree or have a question with a charge on the estimate, we want to know about it. We are here to work with you, not against you. We understand a water damage loss can be overwhelming and frustrating; PoBoy911 can take the burden and stress off your shoulders and really prevent your emergency from turning into a disaster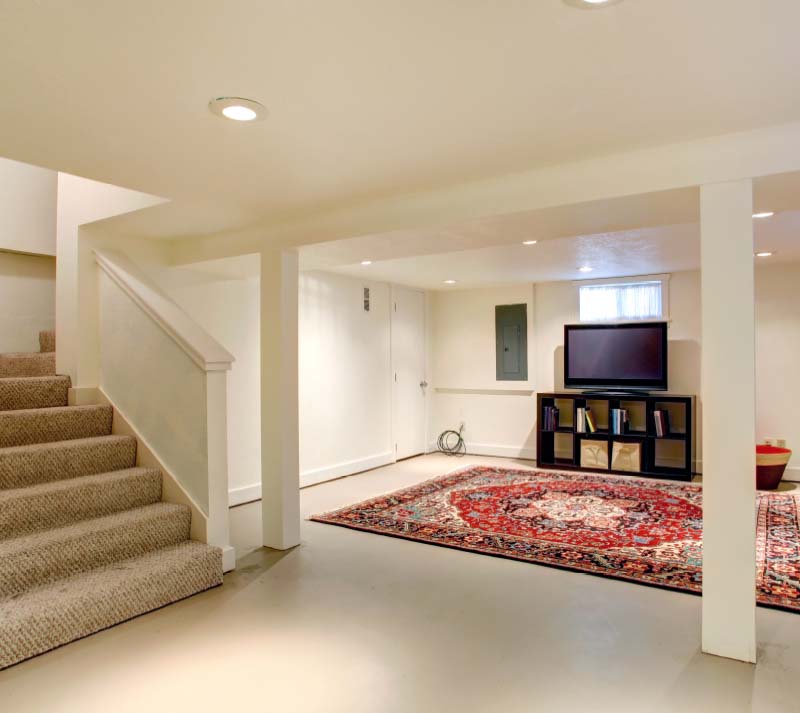 Preparing your Water Damage Claim
Know Your Insurance Policy
After devastating water damage to your home it can be difficult to find where to begin. Most people have never filed an insurance claim before and have no idea of the insurance claims process. Every insurance carrier has different provisions and exclusions within the policy that become vital when the adjuster is determining coverage. A prime example of this is flood insurance. Most homeowners think if they have homeowners insurance, they automatically have flood insurance. This is not the case. Although your policy may cover water damage, it may exclude food water or ground water. It is important that you purchase insurance to cover all aspects of water damage, including flood related damages, which is usually available through NFIP. (The National Flood Insurance Program.) (outlink) PoBoy911 works directly with Flood Insurance agents and we can point you in the right direction when choosing an insurance agent.
It is very important to document everything. It is recommended to never throw anything away or replace damaged structural items until your insurance company has had an opportunity to inspect your loss. If you throw something away or repair something and have no documentation showing the damages, this could lead to no coverage for that particular item.
There are many different types of insurance policies available for purchase, namely:
Homeowners Policy
Renters Policy
Condominium Policy
Landlords Policy
Each of the policies mentioned above would be handled differently during a water loss.
---
Homeowners Policy
If you have covered water damage under your homeowner's insurance policy, you should document each coverage accordingly:
Contents
Make a list of all water-damaged personal property items. Include the Brand, Model / Serial Number, how old the item is, and the amount you paid for the item.
Separate all undamaged items from water-damaged items.
Take photos of each individual item
All policies owe to repair before replacing. It may be wise to obtain estimates to repair items damaged items such as large appliances, or electronics. If an item is unable to be repaired, then your policy may owe to replace that item with the same like, kind, and quality, minus any depreciation. (Depreciation is money that is withheld based on how old the item is)
Dwelling
If you judge the environment to be safe, take photos of all water damage areas, including, water damaged drywall, flooded floors, and water stains on cabinets.
When speaking with your insurance adjuster, your thoughts may become jumbled, so it may be best to write down a brief summary of how the water damage within your home occurred while you have it fresh on your mind shortly after the water damage occurs.
Additional Living Expenses
If your home is deemed to be uninhabitable as a result of a covered water loss under your policy, be sure to keep all receipts for meals out and hotel receipts. All receipts need to be sent to the adjuster for consideration of reimbursement and review.
---
Renters Policy
Under a Renters policy, the policyholder will not be compensated for damage to the structural items. If coverage is provided for a water loss to content items and may even have coverage for additional living expenses if the home is considered uninhabitable.
Content Coverage
Make a list of all water-damaged personal property items. Include the Brand, Model / Serial Number, how old the item is, and the amount you paid for the item.
Separate all undamaged items from water damaged items
Take photos of each individual item

All policies owe to repair before replace. It may be wise to obtain estimates to repair items damaged items such as large appliances, or electronics. If an item is unable to be repaired, then your policy may owe to replace that item with the same like, kind, and quality, minus any depreciation. (Depreciation is money that is withheld based on how old the item is)
Additional Living Expense
If you have water damage to your personal belongings, and your home is considered unlivable, then you may have coverage under your policy for additional living expenses. This would have to be determined by the adjuster working your claim.
Be sure to keep all receipts for meals out and hotel expenses for consideration of reimbursement by your insurance adjuster.
---
Condominium Policy
A condominium policy is handled completely differently than a homeowner's policy. The adjuster has to determine coverage from the governing rules of the condominium association either by the by-laws, co-op lease agreement, or the certificate of insurance, CC&Rs, or declaration pages.
To expedite the claims process with your adjuster, it is very important to gather the governing documents so he or she can determine coverage. Each association should have its own master policy that covers damages specific to what the governing rules require. It should state specifically in the governing documents what the unit owner is responsible for after a casualty or loss.
---
Landlord's Policy
A Landlord's policy is very similar to a homeowner's policy. The biggest difference is that usually the contents of the renter are not covered unless it is owned by the landlord. The landlord will not receive money for Additional Living Expenses but could receive money for loss of rent.
Having a lease with your tenant or holding your property for rent is probably the single most important thing a landlord should keep track of and keep documentation.
If a Landlord experiences a covered water damage loss that makes the home uninhabitable for the tenant, the landlord may only receive money based on the lease, not money the landlord may pay out for the tenant to stay somewhere. If there is damage to the tenant's personal belongings and the home is considered unlivable, then the tenant's insurance policy may provide coverage for him or her to stay somewhere.